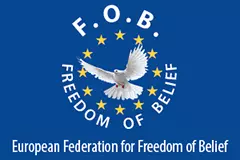 Dichiarazione di Raffaella Di Marzio, segretaria di European Federation for Freedom of Belief
"Bene la bocciatura, da parte della Consulta, della 'legge antimoschee' lombarda, ma resta purtroppo il vuoto legislativo nella tutela dei diritti e dei doveri delle minoranze religiose in Italia". Lo dichiara Raffaella Di Marzio, segretaria di European Federation for Freedom of Belief (FOB).
"Come Federazione abbiamo sollecitato l'intervento delle autorità europee in quanto la norma lede, oltre alla Costituzione italiana come dimostrato dalla Corte, le linee-guida del programma FORB varato dall'UE, a cui l'Italia ha aderito. Non abbiamo mancato di segnalare la situazione anche in sede OSCE/ODIHR nella sessione plenaria, a margine della quale è stato pubblicato il nostro rapporto sul tema: è una questione che abbiamo seguito attentamente", spiega la Di Marzio.
"Nonostante la felicità per l'approvazione del ricorso presentato dal governo italiano, non possiamo non sottolineare che, nell'attuale situazione di assenza di parametri normativi che tutelino realmente la libertà di religione e credo, simili iniziative legislative si ripeteranno, come già annuncia la Lega. Nel corso del nostro convegno del 21 dicembre scorso alla Camera dei Deputati abbiamo parlato della 'legge antimoschee' proprio a questo proposito: serve una legge sulla libertà religiosa chiara e democratica, che tuteli le pari opportunità di credenti e non credenti. Il primo DDL risale ormai agli anni Ottanta, e ci auguriamo che i lavori attualmente in corso conducano a un risultato che ponga l'Italia in condizione di adempiere al dettato costituzionale, rispettare gli impegni presi e impedire che le minoranze religiose, com'è accaduto in Lombardia, siano sottoposte ad assurde forme di discriminazione e ghettizzazione".