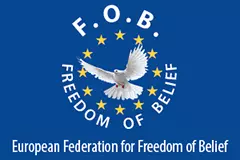 The 15th of March 2018 on the occasion of the 37th UN Human Rights Council atty. Amicarelli, chairman of FOB, will represent at the United Nations, the European Federation for Freedom of Belief at the event "Deterioration of Religious Freedom in Eastern Europe" organised by the UN accredited NGO and FOB associate, CAP-LP, Coordination of Associations and Individuals for Freedom of Belief.
The participation in this event is in line with the programme of actions for the protection of freedom of belief in Europe that FOB has recently put together into a Call of the EUROPEAN FEDERATION FOR FREEDOM OF BELIEF (FOB) to European nations to promote and implement the Right to Freedom of Belief, Thought, Conscience and Religion in Europe, that at this occasion will be presented at the Palace of Nations in Geneva.
The Call, already publicly presented at the International Convention "Law and Freedom of Belief in Europe, an arduous journey" organised by FOB and held in Florence on the 18-19 January 2018 - accredited by the University of Florence, and by the Tuscany Region and organised under the auspices of the Secretary General of the Council of Europe, and also accredited by the Parliamentary Assembly of the OSCE, Organisation for Security and Cooperation in Europe, and that was also granted the Honorific Medal of the President of the Republic of Italy -  is receiving numerous positive appreciations and FOB will continue its own work in this direction in the months to come.
Click the image to enlarge it.