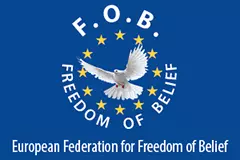 F.O.B. (European Federation for Freedom of Belief) supports the initiative of Soteria International aimed to know the truth about the case of Bivolaru, political refugee arrested in France last February 26 in violation of the international law.
Gregorian Bivolaru – persecuted by Ceausescu's regime – received a criminal conviction in Romania within an extremely controversial trial, marked by documented violations of basic human rights. Since 2005 he has been granted political asylum in Sweden; the spiritual movement which he founded, MISA Yoga, was completely acquitted of all charges on December 11, 2015.
The legal actions against the group have been the center of interpellations and reports at international level, from the EU Commission to the OSCE/ODIHR, to which also F.O.B. contributed by intervening on both the Romanian and the equally controversial Italian appendix of the case and which was brought to the attention of the Parliament in 2012.
F.O.B. joins Soteria in asking clarifications from the French Government about this sudden arrest of a political refugee, emphasizing the religious persecution against MISA Yoga and the irreparable harm suffered by the members of the community, who have seen their fundamental right to freedom of religion or belief violated.