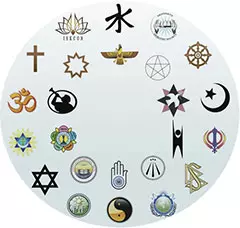 On the 15th of November 2019 the All Faith Network, UK based Interfaith organisation that is an associate member of our Federation, organised the annual Interfaith Week event.
As stated on the event poster the initiative "celebrates the richness and variety of different religions", and also "underlines the commonality of basic values that all religions hold".
Representatives of different communities and organisations joined the event, gave speeches, and the music and dance performances spread a sense of joy and happiness in the attendees.
Our chairman, Alessandro (Alex) Amicarelli addressed the audience with some reflections on the importance of human rights work and advocacy in the field of Freedom of Religion or Belief connected to all other human rights.
He also highlighted the revolutionary idea and contribution given to the field by the Ministerial to Advance Freedom of Religion in the world promoted by the US Secretary of State Mike Pompeo, and launched in 2018, and welcomed by several states.
The Ministerial has acknowledged the existence of a human rights movement that is working towards peaceful co-existence in the world, and that movement, all of us, is making changes happen. Every single step, however small, is a step towards a better acknowledgement of peace and more established freedom for all.
Within the Ministerial, an important initiative has been created to inter-connect the members of the international human rights and FoRB movement, that is the International Religious Freedom Round-tables, which are spontaneous meetings held in different countries to address the relevant issues by the different communities in the respective countries and to make practical proposals and working closely with the authorities too.
FOB, in line with its constitution, welcomes all the initiatives aimed at favouring and fostering the peaceful coexistence of different communities within different contexts, and the All Faiths Network 2019 Interfaith Week event was certainly a great occasion to foster existing relationships and to make new connections as well.