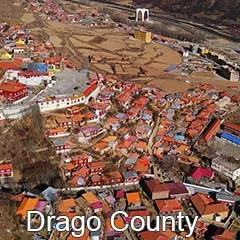 Tibet Watch — Monks and civilians arrested and tortured in detention amid a wave of demolitions.
Tibet Watch has learned from sources that another giant statue of Buddha was torn down amid a wave of ongoing demolitions in Drago County that has also seen a 99-foot Buddha statue, 45 prayer wheels, and a Tibetan monastic school torn down. Several monks and civilians were detained for expressing their disapproval. They have been given little food while in detention and at least some have been tortured.
The three-storey high statue is of Maitreya, the Buddha of the future, and stands inside Drago Monastery. The process of destroying it began from 12 December onwards.
The detainees identified so far are Paga, abbott of Drago Monastery, Nyima, Treasurer of Drago Monastery, Nyima and Tashi Dorje, both monks from the same monastery, Tsering Samdup, and Trolpa. With the temperature dropping below zero these days in Drago, Lhamo Yangkyi, a woman, was tortured in detention, with sources stating that cold water was poured on her and she was beaten by the detention centre authorities. Sources confirmed that another unidentified monk's eyes have been damaged.
Properties destroyed in Drago County are all of religious significance to the local Tibetans. Confirmed reports reveal the proximity of the sites of targeted demolition: They are Maitreya Buddha statue housed inside gold-roofed Drago Monastery (centre left). 99ft Buddha statue sheltered under the white canopy (top centre), a row of prayer wheels house (diagonal from bottom right), Gaden Namgyal Monastic School, L shaped building in front of blue-roofed house (centre right).
Source: Tibet Watch