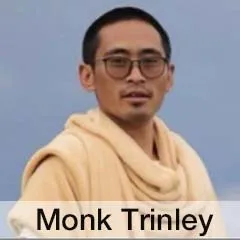 TibetWatch — In September 2021, Trinley, a Tibetan monk from Kirti Monastery in Ngaba County (Ch: Aba), was given a five-year prison sentence after being found guilty of publishing the teachings and writings of the Tibetan spiritual leader, His Holiness the Dalai Lama. Ngaba County People's Court held the trial in secret without the presence of his family members and lawyers.
"After the authorities in Ngaba county arrested Trinley on 1 July this year, his family was left uninformed about his whereabouts for two months", a source told Tibet Watch. "The concerned police custody of the county informed Trinley's family in September. But at that time he was already sentenced to a five-year prison term and taken to Mianyang prison near Chengdu City in Sichuan. He is one of the many arrested this year."
A note was found on the bookshelf of his room at the monastery that reads, "Although Tsenpo has departed into the sky, his decree shall never be violated." (Tib:བཙན་པོ་དགུང་དུ་གཤེགས་གྱུར་ཀྱང་། དེ་ཡི་བཀའ་ལ་འགལ་མི་བྱ།"). Tsenpo is Tibetan for emperor and its history is often referenced to connote the spirit and strength of Tibetan identity.
Trinley had already been arrested multiple times under the same accusations. Each of these arrests was followed with interrogation and detention for several months in different jails in the county. The authorities also forcefully placed him under strict police surveillance to monitor him and prevent him from escaping to other countries. His identity card (Tib:ཐོབ་ཐང་ལག་འཁྱེར།) and travel visa-card (Tib:གནས་སྐོར་ལམ་ཡིག) were both confiscated.
With a history of repeated detentions and lack of access to fair trials, the family of the 20-year-old monk remain extremely worried for his security and safety in the notorious Mianyang prison. Hailing from Village Five of Meruma (རྨེའུ་རུ་མ་རུ་ཆེན་ལྔ་བ།) Township in Ngaba County in Ngawa (Ch: Aba) Tibetan Autonomous Prefecture, Sichuan Province, Trinley has lived in Kirti Monastery since his enrollment as a monk.
Source: TibetWatch.org