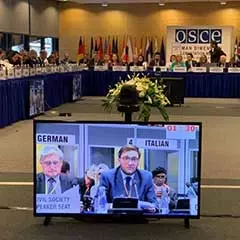 The Human Dimension Implementation Meeting 2019 organised by the OSCE ODIHR was hosted this year at Warsaw National Stadium from 16 to 27 September 2019.
The HDIM is an annual event gathering representatives of the OSCE 57 participating States and of a number of NGOs registered with the OSCE discussing relevant human rights topics.
The 18 sessions were attended by hundreds of delegates and so were the different side-events organised by the missions and NGOs accredited with the OSCE in Warsaw.
Our Federation and its associate organisations such as CAP LC and friend associations like the CESNUR, HRWF and EMISCO took part in different sessions, specifically those of interest for freedom of religion and belief, and others as well.
Above: Christine Mirre (CAPLC), Ivan Arjona (MEJORA), Massimo Introvigne (CESNUR), Willy Fautré (HRWF), Alessandro Amicarelli (FOB)
Our Chairman Alessandro Amicarelli made a presentation on "Hate Speech and the Right to Freedom of Religion and Belief (FORB) of Minority Groups" on the 24th of September during working session 13 of the Plenary on "Tolerance and non-discrimination II, including: – Combating racism, xenophobia, and discrimination – Combating anti-Semitism and intolerance and discrimination against Christians, Muslims and members of other religions".
He pointed out "We hope and recommend that more OSCE participating States look into initiatives (...) to tackle the serious problem of hate speech on the Internet and on the social media; this may also include (...) monitoring the activities of dubious groups that, often claiming to assist victims of what they call dangerous cults (...) in fact operate mass disinformation campaigns claiming, for instance, that several millions of people are being manipulated by gurus that supposedly brainwash them, sexually abuse them and extort money from them against their will".
"Most of these campaigns" he added "are based on fake news, and the figures and other data used for these campaigns are totally made up by the groups originating these campaigns and not supported by any independent agency".
He also emphasised that "the intentionally and deliberately created fake news damages the targets of the specific hatred campaign, be it the Jews, the Christians, the Muslims, the Hindus, the non-believers, or the followers of older or newer religions, spiritualities and life-paths, and as such fake news cannot be tolerated nor protected arguing over the right to freedom of speech or other liberties either".
He finally concluded by calling "on those States that still support, either financially or in other ways, groups that create fake news and generate hatred campaigns causing social panic should stop doing so and instead should start implementing the international legislation and in this line also take all the necessary steps to eradicate prejudice, discrimination, and mistreatment of minority groups and of their members".
Among other delegates the founder and director of CESNUR, Center for Studies on New Religions, Massimo Introvigne stated that there have been improvements at least in Italy in so far as some members of The Church of Almighty God – persecuted in China – are concerned; in fact they were granted refugee status in that country after that, he added, "Italian authorities did indeed realize that many administrative and legal decisions concerning CAG refugees derived from incorrect information, or worse from fake news spread on the Internet by Chinese propaganda".
The representative of our associate CAP LC, Christine Mirre in her statement pointed out that "Members of FECRIS and of its Russian branch, the Saint Ireneus of Lyons Centre for Religious Studies which is affiliated to the Orthodox Church, have been waging for years a campaign against non-Orthodox minorities in order to eradicate them from the Russian territory".
She also added that "FECRIS claims in its by-laws that its activities do not enter « the religious field » and declares to be neutral in this matter. How is it then, that the Vice-President of FECRIS, an organization registered in secular France and massively financed by the French State, is Alexander Dvorkin, a Russian citizen blessed, financed and missioned by the Russian Orthodox Church Patriarch to combat religious minorities perceived as competitors?"; she then concluded by calling on the French State to stop funding the FECRIS, though the French government response was that France will keep funding and financing the FECRIS, in this way confirming that French laicité is quite distant from the other European States and United States standards in regards to freedom of religion and belief, and also confirming that FECRIS cannot be considered as a Non-Governmental Organisation nor an independent and neutral one, being in fact an arm or subsidiary of the French government.
Willy Fautre founder and director of Human Rights Without Frontiers in his speech called on the German government to immediately ban the "sect filter" and request the assistance of the OSCE in this matter.
On the same day 24th of September FOB also co-sponsored a side-event on religious freedom in Russia, organised by the associate CAP LC, focusing on the problems experienced by the local Hindu community that has faced attacks by the anti-cult organisations linked to Alexander Dvorkin and to the local Orthodox community as we reported previously here.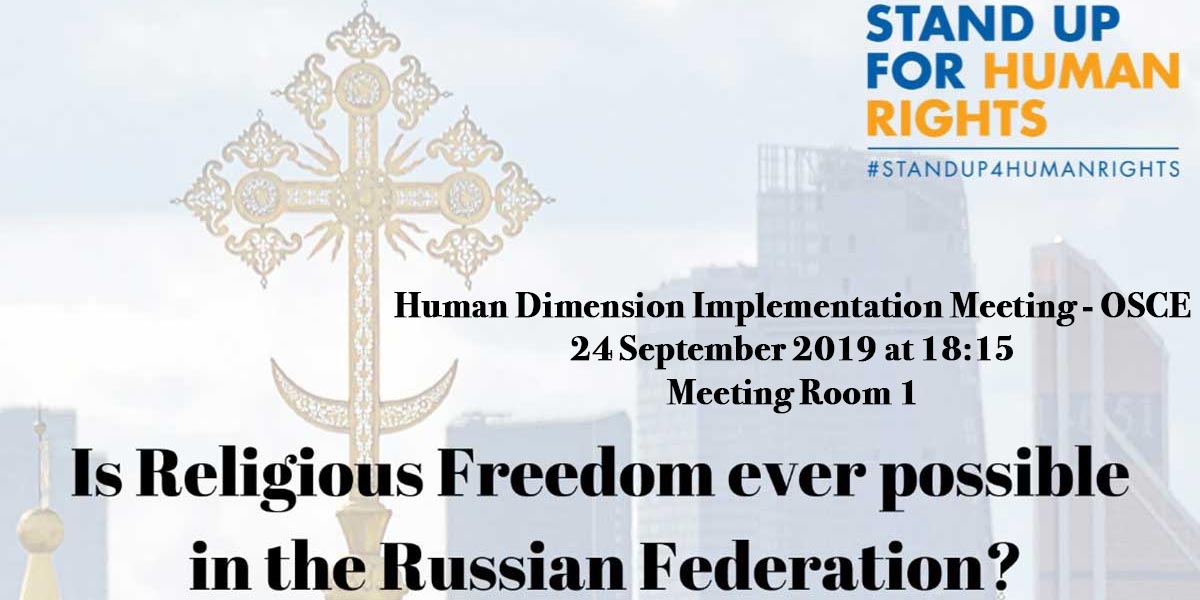 During the side-event, that was moderated by Thierry Valle of CAP LC, there were four presentations from different perspectives, the first to speak was Prasun Prakash, Director of Sri Prakash Dham, then our chairman Alessandro Amicarelli that focused repeatedly on the problem of fake news in connection to hatred and persecution of minority groups and the liability of anti-cult organisations that manipulate the information to prejudice minority religions and new spirituality groups; then Michael Amicarelli, member of the Scientific Committee of FOB who spoke about freedom from a philosophical point of view and then Ivan Arjona of MEJORA concluded the session that was followed by questions and comments from the audience.
Prasun Prakash, Director of Sri Prakash Dham, stated, inter alia, that "There is no single Hindu temple in Russia and the only Hindu place - the Ashram organized by Shri Prakash Ji is constantly attacked by Dvorkin's goons and nationalist groups" he said.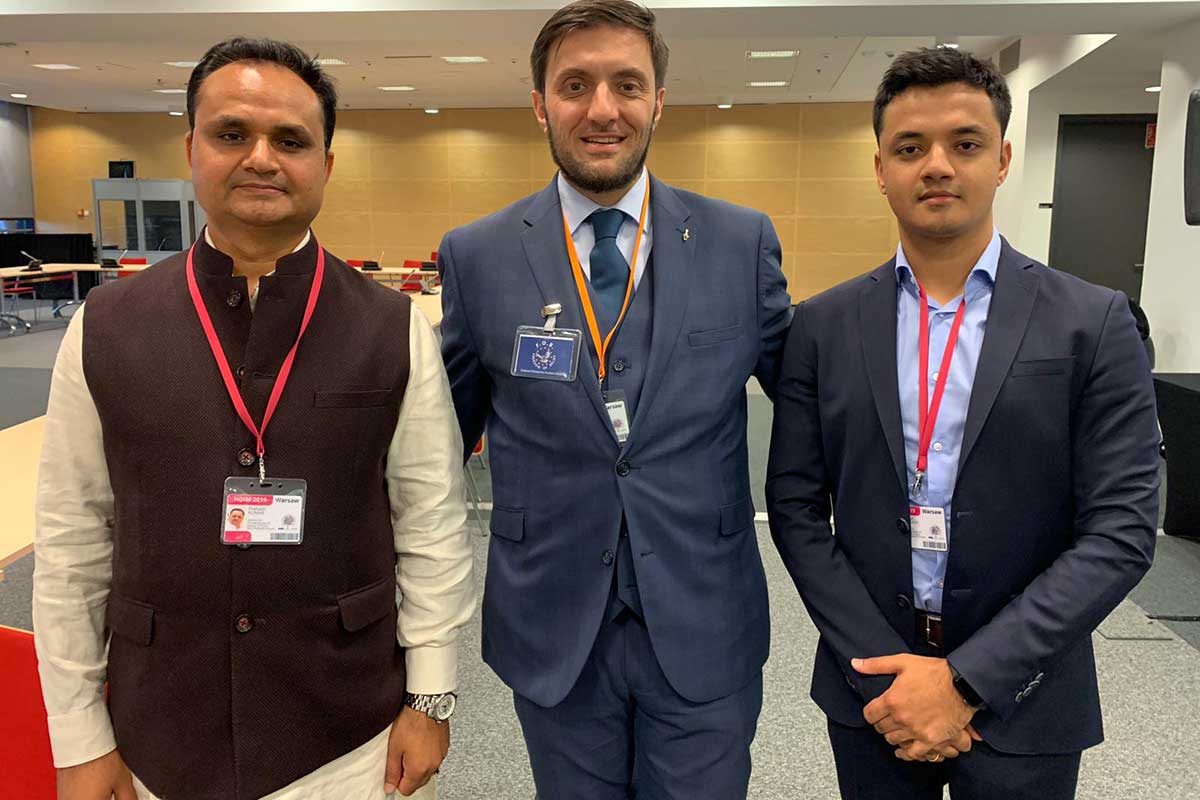 Above: Alessandro Amicarelli (FOB) among Sri Prakash and Prasun Prakash
Our chairman said "Organisations that disseminate hatred, whatever they call themselves, must be stopped" and that "monitoring systems must be put in place by the governments to prevent hatred and everyone's freedom of speech must be guaranteed within the limits allowed by the International human rights instruments that pose limitations to the exercise of freedom of religion and belief too".
In this line Michael Amicarelli pointed out that "according to the philosopher John Locke, humans are naturally born into a state of perfect freedom, are free to do whatever they want, so long as they don't infringe on the liberty of other human beings", and also that "Complete freedom implies both positive and negative freedom, which means that a human being is free when he is not prevented by anyone or by whatever obstacles from doing anything he wants to do, and when he is able to exert his free will, when he is in charge of his own destiny".
The Human Dimension Implementation Meeting was another important occasion for FOB to meet with old friends and partners and to make new connections with like-minded people and organisations working within the same field and towards the same direction.