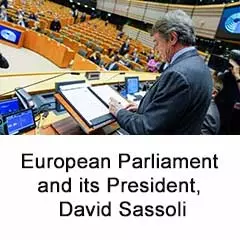 A motion asks the Commission to reconsider the privileged GSP+ status accorded to the country, because of its gross violations of religious liberty.
by Massimo Introvigne — On April 30, 681 members of the European Parliament voted in favor of a motion censoring Pakistan for its human rights and religious liberty violations. Only three MEPs opposed it.
The motion focuses on Pakistan's law on blasphemy, and on the case of the Christian couple Shagufta Kausar and Shafqat Emmanuel. They were arrested in 2013 and sentenced to death in 2014 for blasphemy. The case originated from messages insulting Prophet Muhammad sent to a Muslim cleric using a SIM card registered in Shagufta's name. However, the couple denies any knowledge of the messages, and claims that the SIM card was purchased and used by an unknown person who impersonated Shagufta when registering it.
While their appeal hearing keeps being delayed, the couple remains in jail. Shagufta is in solitary confinement. Shafqat's lower body is paralyzed, and he relies on prison guards for mobility. He also has multiple pressure ulcers that are not being properly treated. In March, the motion says, "he was reportedly in a coma for three days and was not taken to the hospital."
The motion states that this is not a unique case. Unfortunately, "the blasphemy laws of Pakistan are notoriously broad, vague and coercive, and establish the automatic and mandatory imposition of the death penalty." These laws "violate the State's human rights obligations, inter alia, to respect and fulfil the right to life, equality before the law, prohibition of discrimination, freedom of opinion and expression, and freedom of thought, conscience and religion or belief."
Defendants cannot expect a fair trial, the European Parliament says. "Judges are pressured and intimidated into convicting defendants, defense lawyers have been killed in court and witnesses and families have had to go into hiding out of fear," In general, "fear of violence prevent lawyers, the police, prosecutors and judges from conducting their work in an effective and impartial manner." Today, at least 17 people remain on the death row on blasphemy charges, with new accused being constantly added to the list.
The motion notes that "blasphemy laws create a climate of terror and coercion in Pakistan, which affects all religious minorities, including Christians, Hindus, Sikhs as well as "Sufi, Ahmadiyya and Shia Muslims,." All religious minorities "are prevented from freely and safely engaging in religious activities and express their beliefs and non-beliefs, as they are vulnerable to violence, arbitrary detention and persecution."
More broadly, the motion says, "blasphemy laws in Pakistan are also used to silence voices that are critical of the government," including journalists and artists. Women are taken into forced marriages. "The religious party Tehreek-i-Labbaik Pakistan (TLP) is building considerable barriers to human rights by persecuting politically and religiously dissenting voices and accusing them of blasphemy."
Noting that Pakistan has ignored United Nations appeals to repeal its blasphemy laws, the Parliament calls on the European Commission "to urgently submit a report to the Parliament explaining why Pakistan remains eligible for the GSP+; when preparing the report, calls on the Commission to take into consideration the persistent and serious human rights violations."
The GSP is the Generalized Scheme of Preferences (GSP), that allows products to come into the EU market from vulnerable developing countries without import duties. However, European regulations stipulate that countries not respecting human rights are not eligible for GSP+ status. The European Parliament now suspects that this may have been ignored, and the status accorded to Pakistan, by those who made the fact that European Union is #1 Pakistan trading partner prevail on human rights concerns.
In the picture on top of page: European Parliament and its President, David Sassoli (credits).
Source: Bitter Winter