On June 1, 2021 we announced that our French partner CAP Liberté de Conscience did submit a report to the United Nations' Human Rights Council recommending to stop State funding of anti-cult associations, in particular of the French association FECRIS. Today the sociologist Massimo Introvigne has published on Bitter Winter an interesting article about CAP-LC's filing, which we republish hereafter.
---
CAP-LC filed a written statement detailing the defamation cases FECRIS and its affiliated organizations lost, and asking France to stop supporting them.
by Massimo Introvigne — Readers of Bitter Winter are familiar with FECRIS (European Federation of Centres of Research and Information on Cults and Sects), an umbrella organization created in 1994 to put together anti-cult associations in several European (and some non-European) countries. We criticized FECRIS inter alia for supporting China's horrific persecution of Falun Gong and other religious movements. FECRIS promotes the anti-cult ideology, recognized in 2020 by a USCIRF (U.S. Commission for International Religious Freedom) document as a major threat for freedom of religion or belief.
CAP-LC (Coordination des Associations et des Particuliers pour la Liberté de Conscience), an NGO with special consultative status at the United Nations' ECOSOC (Economic and Social Council), the same status enjoyed by FECRIS, has now filed a written statement to the 47th Session of the United Nations' Human Rights Council, which was published on June 21, and asks France to stop its support of FECRIS.
CAP-LC is concerned with the reorganization of the French governmental anti-cult mission MIVILUDES, now under the supervision of the Minister Delegate for Citizenship at the Ministry of the Interior, Marlène Schiappa. She has increased MIVILUDES' present budget ten-fold, to euro 1 million euro per year, CAP-LC reports, and has announced "that this million will be allocated to initiatives that would be run by anti-cult associations, namely CCMM and UNADFI," both FECRIS affiliates.
CAP-LC notes that CCMM and UNADFI refer to themselves as NGOs but are in fact GONGOs (Governmental Non-Government Associations), since 90% of their funding comes from the French government. Representatives of both FECRIS affiliates have been included in the newly appointed Orientation Committee of the MIVILUDES. FECRIS is registered in France and is also directly funded by the French government.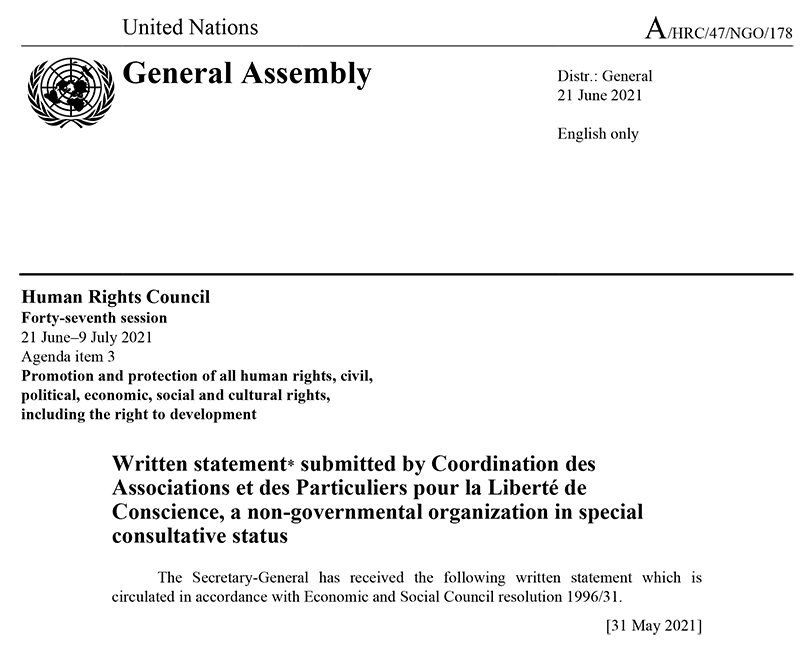 ---
The problem, CAP-LC affirms, is that, rather than objective information about groups they derogatorily label as "cults" (in French, sectes), FECRIS and its affiliates consistently spread fake news and defamation. This, CAP-LC says, is not only the opinion of human rights activists, as FECRIS, its affiliated organizations, and their leaders have been frequently convicted for defamation.
"The former vice-president of FECRIS and Board Member of Austrian FECRIS group GSK has been convicted for defamation a number of times" against the Brunstad Christian Church (known in Austria as "the Norwegian church"). CAP-LC also reports that Pro Juventud, now AIS, a Spanish FECRIS affiliate, has been found by the European Court of Human Right in the 1999 case Ribera Blume and others versus Spain to bear "direct and immediate responsibility" in a case of deprogramming, involving the kidnapping and imprisonment of members of a religious group with the purpose of "de-converting" them from their religion, a practice which has been sanctioned as a serious crime by courts in several countries of the world. Two members of SADK, a Swiss FECRIS affiliate, CAP-LC notes, were also involved in a 1990 case of deprogramming of a member of the Hare Krishna movement in Switzerland, which led to criminal convictions.
"In a final judgement on 19th December 2001 by the Munich State Court, CAP-LC goes on to report, the founder of Sect-info Essen – German FECRIS group was ordered to stop telling or spreading a wide variety of falsehoods about Takar Singh ([the leader of] an Eastern religious group) otherwise they would be fined up to 500,000 DM and if not paid, would be sentenced to jail for up to 6 months."
The French UNADFI and its local affiliates (ADFI) also had several conviction for defamation, CAP-LC says. "On 15 January 1997, the Douai Court of Appeal convicted the president of ADFI Nord, for defamation regarding the Cultural Association of the Jehovah's Witnesses in France. On 29 March 2002, the Marseille Criminal Court condemned a well-known member of UNADFI and FECRIS, for defamation regarding the association of Jehovah's Witnesses. On 20 November 2001, the Paris Criminal Court condemned the president of UNADFI, for public defamation regarding a member of the Church of Scientology. On 5 February 2003, the Paris Court of Appeal confirmed this judgment.  In November 2015, UNADFI was convicted by the Court of Appeal of Paris for 'abuse of legal process,' for having joined, and persisted unlawfully and in bad faith as a plaintiff against the Church, while UNADFI knew perfectly well that this action was inadmissible, its sole purpose being to 'harm the Church and to illegally influence the judicial proceedings in progress.' This conviction was upheld by the Court of Cassation on January 12, 2017."
CAP-LC also mentions that on March 27, 1992, the Federal Supreme Administrative Court of Germany stated that because of its "malicious criticism" of religious movements a local FECRIS affiliate cannot be financially supported by the government.
CAP-LC reminds France of the conclusions of the USCRIF report, and asks the French government to exclude representatives of the local FECRIS affiliate organizations from the Orientation Council of the MIVILUDES, and stop funding both FECRIS and its French affiliates.
CAP-LC also mentions the landmark decision by the District Court of Hamburg of November 27, 2020, which found FECRIS itself, rather than its affiliates only, directly guilty of 18 counts of "untrue factual allegations against the Jehovah's Witnesses."
This decision, which I reviewed in Bitter Winter, deserves a final footnote. FECRIS had wisely kept silent about the Hamburg decision. Only after my review in Bitter Winter, it published a press release where it claimed that it had "won" the Hamburg case. This was repeated by some FECRIS affiliates in different countries, but it's just an attempt to throw dust in the eyes of those who have not read the decision.
Since the Jehovah's Witnesses had claimed that 32 FECRIS statements were defamatory, and the court found 17 of them defamatory, one partially defamatory, and 14 non-defamatory, FECRIS claimed that it had "won" the case since the 14 statements declared non-defamatory were "essential," and the 18 points for which they were sentenced were "ancillary."
The court did not distinguish between "essential" and "ancillary," but what it did was to clearly declare a winner by sentencing FECRIS to pay some money to the Jehovah's Witnesses rather than vice versa.
FECRIS' press release also gave the false impression that the Court of Hamburg had validated the 14 statements it had considered non-defamatory as true. In fact, the Court itself had warned against such an interpretation, noting that in German law "expressions of opinion enjoy extensive protection. Accordingly, inaccurate opinions also share in the scope of protection." One clear example of an "inaccurate opinion" regarded as non-defamatory, which FECRIS mentions in its statement as if it had been confirmed as true by the Hamburg judges, is that "all claims of persecution of the Jehovah's Witnesses in Russia are just primitive propaganda."
Of course, FECRIS appointed as its Vice President Alexander Dvorkin, the main architect of the persecution of the Jehovah's Witnesses in Russia. However, only a "primitive" Russian propaganda can claim that the Jehovah's Witnesses are not the victims in Russia of a persecution that has been denounced as such by the European Union, the United States, the United Nations, the European Court of Human Rights, and several individual European governments (including Germany).
FECRIS will probably answer the report filed at the Human Rights Council by attacking CAP-LC. Shooting the messenger is a FECRIS specialty, but they should remember Italian Marxist philosopher Antonio Gramsci's dictum that by smashing the barometer one does not eliminate the bad weather.
They may also answer that there are court cases they won, either because their statements were regarded as non-defamatory (but remember, "non-defamatory" does not mean "true") or because they successfully sued for defamation or insults religious groups that lost their temper and called them inquisitors, Nazis, or worse.
But this is not the point. France supports FECRIS and its affiliates and asks its representatives to advise the government because it recognizes them as "experts" on "cults." If, in several cases, they have been found guilty of spreading fake news and defamation, their credibility as "experts" is destroyed, no matter how many times they narrowly escaped being sentenced or won cases against religious movements that got tired of turning the other cheek and retaliated.
Source: Bitter Winter