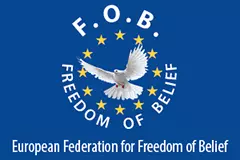 The Board of Directors of F.O.B., European Federation for Freedom of Belief cannot exempt themselves from making the following known.
On 18 January, 2016, an article about our Organization was issued on an online newspaper by name of Linkiesta. The title is "Scientology and the others, here is how cults land in the Parliament".

The reporter implies that our confederated Organization would in fact aim at eliminating any intent of opposition towards the field of cults. It is reported that this would be the opinion uttered by the Presidente of Cesap.
It is true that on 21 December 2015 there was a Convention in the Mappamondo Hall at Montecitorio.

It is an outright falsity that our Organization has connections with this or that cult.

Our bylaws cover the faculty and the commitment, on the part of our members, to protect the whole religious freedom in order to attain a pacific living coexistence, in the respect of the beliefs or the "non-beliefs" of everybody.

Our Organization is independent from political parties, but does monitor political activities so that the rights which belong to each religion, are not violated.
The degrading of our Organization's high purposes, which leaks from an evaluation of the Reporter, won't harm us because the aims and ideals of our Organization are superior to any possible coarse, shallow opinion.

The objective fact contradicting the Reporter, can be plainly seen, based on the regard bestowed to our Organization by the scholar, political and international environment.
Especially, the Reporter mentions names of members and attributes to them qualities and facts absolutely non-existent, concerning which, each of them will respectively take legal action in standard courts.

The Reporter attempts to discredit some member organizations, with an evident misrepresentation of facts.
Our Organization respects the laws of the land as well as any choice of the government.
It is a personal, unfounded opinion of the Reporter that any "conflict of interest" exists between our Organization and the administrative agencies of the government.
It may even be an opinion of the individual described as the source of such consideration, but that doesn't meet any matter of fact.
It is deemed useless to peruse the article under a jurisdictional aspect with regards to the violation of subjective rights that are protected in a criminal sense, too.
Such aspect will be evaluated and judged for, in the opportune judicial seats.