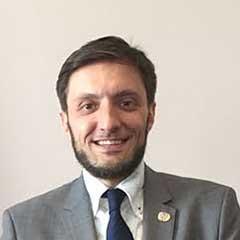 The United Nations Day to eliminate violence against women was an opportunity to celebrate the brave female dizi who endured humiliations and suffering.
by Alex Amicarelli — On November 23, 2021, CESNUR, the Center for Studies on New Religions, and Human Rights Without Frontiers organized yet another of the bi-monthly webinars on the Tai Ji Men case. In preparation for the International Day for the Elimination of Violence against Women (November 25), scholars and human rights activists discussed the theme "Women, Spirituality, and the Tai Ji Men Protests."
The webinar was introduced by Daniela Bovolenta from Bitter Winter, who summarized the main events of the Tai Ji Men case. She explained that for Bitter Winter reporting systematically on the injustices vested on Tai Ji Men in Taiwan is important, as the case is a paradigmatic example of the use of administrative tools to discriminate against a spiritual movement. Dr. Bovolenta also said that, in looking at the pictures of the Tai Ji Men protests, she noted that many women are part of the street demonstrations.
The full video of the webinar
---
Interestingly, Dr. Bovolenta noted, November 25 was selected by the United Nations as the date for the International Day for the Elimination of Violence against Women to remember the assassination in 1960 of the Mirabal sisters, who were protesting against the authoritarian regime then ruling the Dominican Republic. Happily, nobody was killed in the Tai Ji Men protests, Dr. Bovolenta said, but women were at the receiving ends of police brutality, and it is appropriate to celebrate and honor them in anticipation of this special day.
Dr. Bovolenta then introduced a video with the story of Ms. Huang, a volunteer of the Legal and Tax Reform League and a Tai Ji Men dizi (disciple) who was detained by the police on September 19, 2020, for simply holding a protest sign. Dr. Bovolenta also introduced three papers.
Massimo Introvigne, an Italian sociologist who serves as managing director of CESNUR and editor-in-chief of Bitter Winter, noted that sociologists have discussed for decades the phenomenon they call of the "gender gap in religion," i.e., the fact that in most religions and spiritual groups throughout the world there are more women than men. This has been explained by some sociologists through social reasons, including that women spend less time in the workplace or in public activities, where they would be submitted to the influence of secularizing factors. Others maintain that women are inherently more spiritual for physiological reasons or for a natural direct connection with the sacred.
While the debate continues, Introvigne noted, a dark side of the gender gap is that those who want to attack spiritual groups attack women, for practical and also for symbolic reasons. This also happened in the case of Tai Ji Men. The shimu, i.e., the wife of the Tai Ji Men's shifu (Grand Master), Dr. Hong Tao-Tze, was arrested in 1996 together with her husband, and later recognized as innocent as he was of all charges. The case of Ms. Huang also shows how female Tai Ji Men devotees become an easy target for police brutality.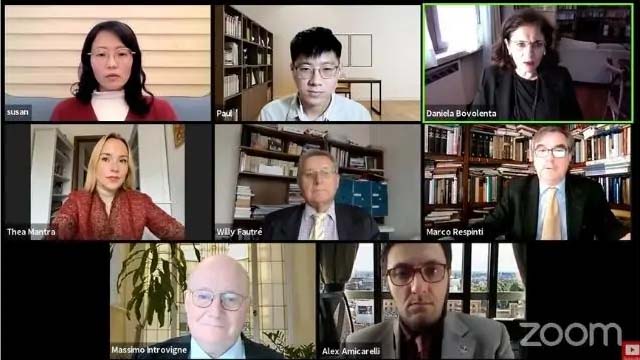 An image of the webinar
---
Willy Fautré, director and co-founder of Human Rights Without Frontiers, reported about his organization's work to combat violence and abuse against women. This unfortunately widespread phenomenon happens in three main areas: domestic violence, "honor" killing of women who have reportedly misbehaved, either sexually or by converting to a religion not approved by their families, and female genital mutilation.
Religions are sometimes co-responsible of this violence, or do not do enough against it. Hence, Fautré concluded, the need that spiritual movements such as Tai Ji Men, who are active and highly respected at the United Nations, do not only protest for the abuses perpetrated against them but also put their skills in promoting global peace and love events at the service of the world's suffering women.
Thea Crudi, a Finnish-Italian spiritual singer, explained that she came to know Tai Ji Men through her participation in the activities of Fedinsieme, the committee for the promotion of inter-religious and inter-cultural dialogue founded by Italian attorney Francesco Curto. Although she never met the shifu of Tai Ji Men, Dr. Hong Tao-Tze, Thea said she read articles and watched videos on his impressive activity on behalf of world peace, and also studied the Tai Ji Men case.
She is very surprised, she said, of how illogically Taiwan's administrative system behaved toward Tai Ji Men, creating unnecessary suffering. She was also impressed, she added, by the testimony and bravery of Tai Ji Men women, to whom she dedicated her song of an Indian peace mantra.
Thea Crudi singing
---
I then introduced a video by the American legal scholar Kenneth Jacobsen, a renowned expert of human rights and tax law, who also emphasized the incoherence and injustice of the Tai Ji Men case. I noted the important presence of women in the Tai Ji Men movement, and saluted their bravery in the street protests, before introducing six witnesses.
H.N. Lam, a human rights observer for the Association of World Citizens, reported his experience of several cases in Taiwan where the rule of law and tax justice were not upheld. He noted that cases of gross tax injustice, of which the Tai Ji Men case is the most well-known internationally, are a stain on the international reputation of Taiwan. Lam also noted that renowned international experts of tax law, human rights, and freedom of religion or belief have taken an interest in the Tai Ji Men case, and their opinion is unanimous that serious injustices have been committed against Tai Ji Men.
Dong Heng-E, a business owner and dizi, told of the physical and spiritual happiness she gained through her practice of qigong and self-cultivation in Tai Ji Men academies. She also reported her painful and humiliating experience when she felt she was not taken seriously when she told the authorities, for years, that what she put in the so-called red envelopes and gave to her shifu were gifts, not tuition fees of an alleged cram school as the National Taxation Bureau had maintained.
She was even more humiliated when tax bureaucrats refused to see her, and her attempt to meet the director of the National Taxation Bureau of Taipei resulted in a physical assault by security guards that left injuries all over her body. While physical injuries healed, anguish and nightmares about that experience are still with her, as those who watched her moving testimony clearly understood.
Susan Su's testimony
---
Susan Su, an educator and Tai Ji Men dizi, reported how the practice of qigong and martial art helped her solving physical and psychological problems, and how happy she was when she participated in the United Nations Youth Conference in 2008 together with Dr. Hong. By attending U.N. events, she also became aware of the seriousness of the problem of abuses against women.
The case of Ms. Huang, she said, proves how women who protest and defend their rights are easily abused, but is not the only instance of suffering experienced by Tai Ji Men women. They have been ridiculed, bullied, and discriminated in schools, universities, and workplaces. Su expressed the hope that the support of so many international scholars and human rights activists may persuade the government of Taiwan to rectify its stance.
Ho Li-Jun, a Tai Ji Men dizi and retired civil clerk, offered a dramatic example of the experience of women after the 1996 crackdown on the movement. She was discriminated in the workplace and her two younger children were bullied in school. Her husband, who had believed the media slander against Tai Ji Men, beat her trying to compel her to leave the movement, and even locked Ho outside of the family home. After 25 years, the lies of the media against Tai Ji Men have been exposed but the case is still not solved, leaving Ho wondering how long this suffering should continue.
Paul Chen, a firmware engineer and dizi, reported how Tai Ji Men's qigong helped his mother who was struggling with cancer, and himself to develop the bright character for which he is now known. He also told how he visited several countries, including Bahrain, spreading Tai Ji Men's message of peace and love. Chen also mentioned that he hoped a last-minute attempt might save the sacred land of Tai Ji Men for being auctioned off and then seized in 2020, and disappointed when this did not happen and the injustice continued.
Another dizi, Sandra Ma, who lives in the United States, reported how her son, who was suffering from asthma, was greatly helped by Tai Ji Men practice. She also discussed the role of the two Tai Ji Men academies in California in spreading traditional Chinese culture to the United States. Ma offered an in-depth analysis of the practice of "red envelopes" that disciples give to their martial arts or spiritual masters.
They were never considered as tuition fees and never taxed in Taiwan. This corresponds to what she calls "an ancient tradition of rituals and ceremonies," and she noted that it was absurd that only in the case of Tai Ji Men the content of the red envelopes was taxed as alleged tuition fees.
Marco Respinti, director-in-charge of Bitter Winter, summarized the three main themes of the webinar. The first, he said, dealt with the female genius, presented through categories such as admiration, beauty, imitation of what we admire, embrace, resilience. The second was the violence against women, perpetrated in many forms to which Respinti added "gendercide" through selective abortion of female infants. God is not responsible of violence against women, Respinti said, but some religions sometimes are.
The third theme was the violence against Tai Ji Men women through ridicule, discrimination, slander, and in some occasions even unjust detention, as it happened to Dr. Hong's wife, police brutality, as in the case of Ms. Huang, and physical assault, as told by Ms. Dong. Celebrating the bravery of Tai Ji Men women is not enough, Respinti concluded, we should imitate them and keep fighting for justice and human rights.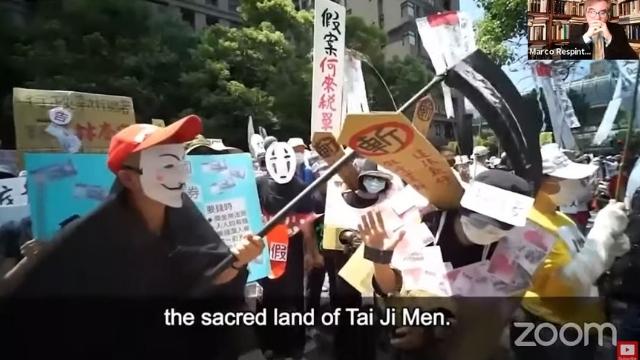 From the musical video
---
The webinar was concluded by a musical video, The Truth Will Come Out of the End, giving a musical twist to the story of the Tai Ji Men case and expressing the dizi's confidence that lies and abuse cannot be perpetuated forever.
---
This article was published also on Bitter Winter