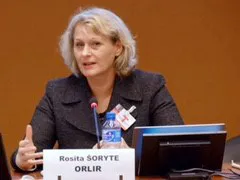 She was born on September 2, 1965 in Lithuania. In 1988, she graduated from the University of Vilnius in French Language and Literature. In 1994, she got her diploma in international relations from the Institut International d'Administration Publique in Paris.
In 1992, Rosita Šorytė joined the Ministry of Foreign Affairs of Lithuania. As a diplomat she has been posted to the Permanent Mission of Lithuania to UNESCO (Paris, 1994-1996), to the Permanent Mission of Lithuania to the Council of Europe (Strasbourg, 1996-1998), and twice to the Permanent Mission of Lithuania to the United Nations in New York (as First Secretary (2003-2006) and as Minister Counsellor (2014-2017).
In 2011, she worked as the representative of the Lithuanian Chairmanship of the OSCE (Organization for Security and Cooperation in Europe) at the Office for Democratic Institutions and Human Rights (Warsaw).
In 2013, she chaired the European Union Working Group on Humanitarian Aid on behalf of the Lithuanian pro tempore presidency of the European Union. As a diplomat, she specialized in peace and security, disarmament, humanitarian aid and peacekeeping issues, with a special interest in the Middle East and religious persecution and discrimination in the area. She also served in elections observation missions in Bosnia and Herzegovina, Georgia, Belarus, Burundi, and Senegal.
Her personal interests, outside of international relations and humanitarian aid, include spirituality, world religions, and art. She takes a special interest in refugees escaping their countries due to religious persecution and is co-founder and President of ORLIR, the International Observatory of Religious Liberty of Refugees. She is the author, inter alia, of "Religious Persecution, Refugees, and Right of Asylum", The Journal of CESNUR, 2(1), 2018, 78–99.
Languages (fluent): Lithuanian, English, French, Russian.